Cooking in your backyard with a bunch of friends and making memories is always something to cherish. For that, you can always use a grill or a griddle. But did you know you can get a combo of both grill and griddle as well?
So, you don't need to spend extra money or space to get both benefits. To help you choose the best grill griddle combo we have prepared a list.
We went through a bunch of products and dug deep to find these. Finally, we ended up with the 10 most effective grill griddle combo that will surely satisfy your needs. But before you get into the product list, we suggest you learn some facts. Let's check out some things to consider before you buy a grill griddle combo for your backyard parties.
Things to consider before buying grill griddle combo
You can surely rely on reviews to make your judgment before buying. But if you want a decision without a hint of doubt in your mind then you should consider some things yourself. Going through these factors and ticking them off will clear your mind from any doubts about your buying choice.
Cooking top
When you are considering buying a grilled grill combination you must look out for the cooking top. Make sure that the cooking top is spacious enough. Having a cooking top with big size is always a better option because you can cook multiple items at once. But you will need a bigger size when you are cooking for a larger number of people. So, the choice comes down to your usage. If you don't have the use of a bigger sized cooking top then there is no point in buying one.
Material choices
This is a very crucial thing to consider when you are buying a grill griddle combo. You will want a material that lasts long enough. For that purpose, there are two popular options people consider. One is stainless steel and the other is cast iron. Also, having a thick material for your cooktop is a better choice. Because it will give you proper heat distribution when you are cooking. And that eventually leads your food to cook evenly.
Burners
The number of burners you have on your grill and griddle will always matter. Because it will determine how much and how good you can cook with your grill and griddle. Depending on your usage and food amount you will need to go through the different types of burners. If you are someone who would cook multiple items together then go for a dual burner setup. Also, when you are a regular user of griddle it's better to go for an open burner.
Portability
This is something you must not ignore. Portability is a big deal when it comes to gas and griddle combos. Because you can't possibly keep your cooker sitting outside in the backyard. Neither you will be having parties every other day in your backyard. So, you will need a grill griddle combo that is easy to move around.
*Having read about what a smoker grill combo is, you should know how to use it.
Best grill and griddle combo reviews
Once you have checked up on these features of a grill griddle combo you can easily make your choice. Now let's get you through some buying options that might help you narrow down your product choices even more.
Blackstone Tailgater Portable Gas Grill and Griddle Combo
When you are concerned about the portability of your grill griddle then this is your answer. You get the best kind of portability with this one. All you do is assemble the stands and you are ready to cook. You can even go for a picnic in the park taking this one.
Apart from the portability, you will be getting two burners on this one as well. So, if you are looking to buy a grill griddle combo with a two-burner option then this is your pick for sure.
And to top things of this one comes with cast iron grill grates which ensures durability for your grill griddle combo.
Pros 
It's very easy to move around
Has various setup combination to match your cooking style
Built to last for a long time
Satisfying performance
Has two independent burners 
Cons 
Takes some time to remove the stand
Doesn't have a decent grease drip tray
Hamilton Beach 3-in-1 Electric Indoor Grill + Griddle
Imaging using the grill and griddle function at the same time. Wouldn't that be awesome? Well, here is good news. Now you don't need to imagine that. Because with this Hamilton beach 3 in 1 combo of grill and griddle you can do that in real life.
This comes with a feature that lets you cook in griddle and grill at the same time. You can also go for the full grill or full griddle. The setup comes with two separate cooking areas that have two different burners.
Cleaning and carrying this are no sweat either. You can easily pick the cooker up without any hassle at all. Also, the burners are electronic so you won't need to worry much about fire or fuel either.
Pros 
Has got versatility in cooking styles 
Comes with multiple burners 
Has dual cooking areas
Very easy to clean 
Very much affordable
Cons 
Royal Gourmet PD1300 Portable
If you are planning to cook for a large group of people then this is the one grill and griddle for you. It comes with 3 different burners with separate heat systems. You can control and use three different temperatures at the same time. So, your cooking will get faster than before.
Besides that, you can easily dispose of any oil from this one. Turning the heat on this one is very easy as well. The griddle comes with a porcelain coat and has a premium finish. The control panel is made of stainless steel, so you don't need to worry much about spills and cleaning it.
Pros 
It is portable so you can move easily 
Comes with 3 separately controlled burners 
High-quality griddle 
Easy ignition system
Cons 
Blackstone Table Top Grill
With easy usage, maintenance, storing this is something you might enjoy having. It doesn't feature those fancy multiple burner setups. It's a very simple thing to use at your home and backyard for a small get together. So, unless you are having a feast it can easily do the job for you.
The griddle on top comes with a good amount of space for cooking at a large volume. It's also quite heavy-duty inbuilt. Also, it has got burners that will provide you with rapid heating. You can cook your items real fast with this feature. The heat distribution i+0s, even so, you won't need to worry about the uncooked part of your food.
Pros
Very convenient to use 
Easy to clean 
Has decent space for cooking 
Quickly heats up 
Easy to move around
Cons
Not great for large parties 
CUISINART CGG-888
If your concern is heat control then we have got the perfect solution to your problem. This one comes with two burners that have separate controls. You can get up to 30000 BTU per hour from this cooking system.
It also has excellent grease management. Sometimes this can be an issue for people who like to keep things clean. But with this one, you have fewer worries regarding grease cleanup. One special feature to take a look at is the additional lid that comes with this one. You can get a better cooking experience with roasting, steam, or baking. Also, a little touch with the paper towel holder makes this one a better choice.
Pros 
Easy to assemble 
Good grease management
Has two separately controlled burners 
Additional lid for better cooking
Comes with a tissue paper holder
Cons 
Cuisinart GR-4NP1 5-in-1 Griddle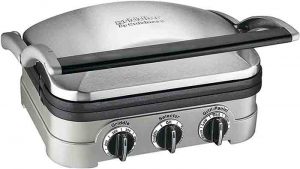 Well, it takes away the con of not being portable from the previous Cuisinart product. You get portability ensured on this one. And the other features are enough convincing to make a buying choice on this. Let's check them out.
The first thing to focus on this is the 5 in 1 function you get. You can use it like a complete grill or a complete griddle. Or you can try out the combo of half grill and half griddle. Then there is an option to go for a contact grill and panini press as well. So, you can have versatility in your cooking with just this cooking machine.
And along with all that cool stuff you get the ease of usage and simpler controls. Also, the construction is quite good as well.
Pros
Portable and easy to carry
Comes with 5 cooking options 
Has got 3 burners 
Very easy to use 
Cons 
Warranty service isn't that good
Plastic buttons on the side are an eyesore 
Electric Griddle, DEIK 2-in-1 Indoor Grill
Whether it's indoor or outdoor you can have a good cooking experience with this one. The cooking surfaces are good enough to cook a whole meal for a family. Comes with safety ensured from any kind of hazard.
Doesn't cause any kind of smoke so it's a healthier option for cooking. It has got excellent grease management to work with. You can also adjust the heat according to your preference with the thermostat. It has got 5 adjustable levels.
Pros 
Very easy to clean and carry
Much eco-friendlier and less harmful
Big enough cooking surface 
Ensures all kinds of safety from fire hazard
Cons 
IKICH KCCP137ABUS Electric Griddle
The compact and portability feature is always a preferable feature on grill and griddles. So, you get that from this. But along with that, it comes with precision in the heat control system. Also has a large area surface for grilling and griddling. You can even do both at the same time on this.
The cooking surface on this is completely non-stick. Your worries about getting your food stuck on the pan end here. With the double grease channel, you will be getting better grease management. This allows you to have healthier food all around.
Pros
Excellent heat control 
Large size cooking surface 
Nonstick pan for the better cooking experience 
Easy to clean
Cons 
Royal Gourmet PD1301S Portable
With some quick and even heating this can be your next grill griddle combo option. It gives you up to 25000 BTUs per hour in your cooking. You get that from three separately controlled burners. The ignition system on this is also top-notch.
It has got quite a spacious cooking surface. You get a 315 square inch cooking surface. Doesn't require any time for assembling this one. As this is a portable cooking terminal you can just carry it around anywhere you wish to.
Pros
Easy to carry around
Spacious cooking top
Fast and easy heat control
Easily cleanable 
Cons 
Heat distribution is questionable 
Royal Gourmet Regal GB2000 2-Burner Propane Gas Grill Griddle
The perfect solution to your backyard BBQ parties. You don't need much to get this thing going. It's a gas grill and griddle combo for your every backyard party.
This one comes with an electronic ignition system. You can just push a simple button to get it going. It has got wheels so you won't need to carry it on hand. The whole package is convenient. It's easy to move around with the wheels.
Pros 
Powerful heating system
Excellent in performance 
Easily movable 
Easy to start 
Good grease management
Cons
The coating comes off fast
A little hard to assemble 
Conclusion
We dug real deep to find out these products scattered throughout the internet. Through all the information we got these seemed to be the best grill griddle combo out there. You can get any one of them depending on your needs. No matter which one you choose, you won't be disappointed for sure.